A POD storage unit prices start at $149/month. Delivery and pick-up fees average $74.99. In most cases, delivery and pick-up charges can be waived depending on the duration of your container rental. Keep reading to learn more about PODS' costs, discounts, and ways to cut storage costs.
How PODS Storage Prices Are Calculated
PODS storage costs depend on several factors including:
Geographic location
Time-frame and season
Size and number of containers needed
Whether you're storing your container in your driveway or at a secure, indoor PODS facility
Check out our discount offers to see what specials are available.
The PODS No-Hassle Payment Process
Learn how our clear, upfront pricing works for you.

No deposits, no obligations: Like most hotel reservations, you can reserve your PODS storage unit with a credit card – no payments due until 7 days before your container delivery.
Easy cancellation: Get a full refund when you cancel up to 24 hours before your first container delivery.
No surprise costs: We're transparent with our pricing in your detailed quote, which you'll receive in writing via email.
Avoid late fees: Your containers are rented by the month, so you can take your time loading and unloading – without worrying about extra fees that can come with a truck rental.
Flexible scheduling: With PODS there are no rigid schedules. Change of plans? Just let us know.
What's Included in Your POD Storage Unit Price? More Service. Less Stress.
While you're comparing storage unit prices, it's important to understand what services you're getting and which factors you value most. Take a look at PODS portable containers vs. self-storage to learn more.
After we deliver your container, you load it and keep it at home, or we pick it up and drive it to a secure PODS Storage Center where you can access it any time. When you want your stuff, we bring your container back or to your new home. Either way, you load and unload only once, and at your own pace.
If you're trying to save money by using self-storage, consider what it costs you in time and stress. Whether you're using your own truck or renting one, you have to load and unload your stuff multiple times, often while racing the clock. That's a lot of work and pressure you skip.
More built-in advantages with POD portable storage units
We do all the driving: You don't have to drive a big truck. No worries about accidents, parking, or breakdowns. No added late fees or gas costs either.
Tough steel-framed construction: Breathe easy when your belongings are in a weather-resistant container.
Flexible options: Keep your container handy at home or store it at one of our facilities. Choose from three different sizes.
Roomy timeline that you control: Take your time loading and unloading. Not sure how long you need storage? No problem. Your units are rented by the month. No commitments.
Experience you can trust: PODS pioneered portable storage in 1998, and we're still setting the standard for quality service.
Options for contents protection coverage: Move and store with extra peace of mind. With lots of coverage levels, you can choose based on the value of your belongings.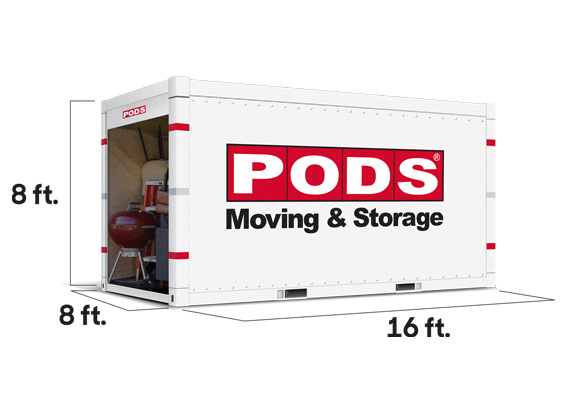 Understanding Storage Pod Unit Costs
Average cost of storage pod units
According to the 2020 Self-Storage Almanac, the average national rental rate for a 10′ X 10′ storage unit is $107.11 and $132.97 for a 10′ X 15′ storage unit. Keep in mind that this price is for self-storage only, and varies significantly depending on location and other factors. There are no average costs available for portable containers because the services are too diverse to allow apples-to apples comparisons. No matter what type of storage you choose, collect a number of specific quotes for your area and be clear about the terms and services included.
Factors that affect your storage unit prices with a pod
Location: Storage prices can vary significantly across the country. Just as apartment rentals run higher in major metro areas where real estate is in high demand, storage can be pricier, too. Prices can be lower in less densely populated areas, according to Sparefoot.
Time: While self-storage and portable storage companies generally offer rentals on a month-to month basis, some may require minimum time commitments in exchange for lower storage prices. If you're going to store for three months or longer, it makes sense to ask if there are discounts available.
Size: The size space you need to store your stuff is another pricing factor. The larger the unit needed, the higher the cost.
Service: With self-service storage units, you do all the work yourself, which is why this can be the cheapest option if you don't have to rent a truck. Portable storage generally includes delivery and pick-up service for a fee, which can sometimes be waived if you rent your unit for a minimum length of time.
Add-ons: If you choose to rent or purchase packing supplies from the facility, remember to factor in these added costs. Some self-storage and portable storage unit companies also offer the option of purchasing labor services for packing, unpacking, loading and unloading.
Insurance: Consider insurance costs, as most storage facilities require customers to have some type of insurance. If you have homeowners or renters insurance, this may meet the requirement. However, you may want to purchase more coverage based on the value of your belongings.
Smart Ways to Cut Storage Costs by using A Pod
When it comes to saving on storage unit prices, there are several ways to make it easier on your budget. Use these tips to get more space for less.
Don't pass up the opportunity to save on special promotions and discounts. Just be sure to ask for all the details.
Discount offers: Look for discounts and always ask if there are any available, even if you didn't find any on the company website. For example, with our BUNDLE discount you get free delivery and pickup for rentals of three months or longer, which offers the flexibility and convenience of portable storage at prices comparable to self-storage.
Military discounts: If you're in the military or a veteran, you may be eligible for special savings. For example, PODS offers military discounts on storage and moving services for active duty, retired, and veteran members of the U.S. Armed Forces.`
Potential savings on long-term storage: If you think you'll be storing for three months or longer, it's a good idea to ask: How much does long-term storage cost? There may be special discounts for longer periods of time. Be careful to avoid making a longer commitment than you have to because you could end up spending more in the long run.
Read the fine print: Make sure a discount is really the right way to cut costs. Don't get stuck with a bait and switch deal. Many self-storage facilities attract customers with "first month free" or super-low pricing promotions, only to increase your monthly rent after you've done all the work of moving your stuff in. Others have 12-month leases.
Organize and declutter
The less you need to store, the more you can save on storage space. Even though it can take extra time upfront to declutter and streamline your stuff, this step can pay big dividends in cutting costs, not to mention in time and trouble loading and unloading.
Sell or give away extra stuff: The best thing about selling or giving things away is others haul it away for you. Raise some extra cash by holding a garage sale or posting items on apps like OfferUp, Nextdoor, Craigslist and other online marketplace sites. If you're short on time or don't have a large enough vehicle to contain your items, schedule a pick-up with a local charity. Either way, your stuff will go to good use.
Get help from a friend or organizing professional: Decluttering is always easier when it's not your own stuff. Ask a friend or hire a pro to help you sort, purge, and get organized. Get some quick ideas now with How to Declutter in 6 Steps.
Use on-site portable storage units to ease the process: When the amount of stuff seems overwhelming, you can take a few days or weeks to move items into a portable container in your yard or driveway to clear space temporarily while you figure out what you want to keep and store.
Pack and load to optimize storage pod
Efficient packing and loading techniques will help you minimize the size and number of containers you may need – ultimately cutting your costs.
Use our expert packing and loading tips and video: Learn how to pack and load like a pro so you use all available space. This includes wall-to-wall and floor-to ceiling. Check out our tips and watch the video – you'll be amazed at how much can fit into one container!
Hire packing and loading pros: Moving and storage professionals know how to get the most out of storage space, potentially helping you reduce costs. Get packing and loading assistance.
Be clear about what type and amount of storage you really need: Learn more about how to find what's right for you with our tips on finding a storage facility.